Have you ever ordered to-go food and felt a twinge of guilt because of the packaging? Where does that Styrofoam container go when you're done with it? How about the plastic utensils or your straw?
But even if you've not thought about this, it's likely your customers have.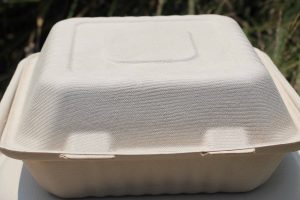 According to Christina Donahue, president of the Dining Alliance, sustainable packaging is increasingly top-of-mind for consumers, especially younger consumers, and it might affect which restaurants they choose. Writing for Fast Casual, she said:
Millennials and GenZ customers tend to favor fast casual restaurants like Chipotle, Smashburger, Shake Shack, etc., and put an increasing emphasis on eco-friendliness compared to older generations.
If you're looking to switch your food service brand away from Styrofoam and plastic, here are three things your customers are going to look for.
1) Guilt-Free Dining
Consumers want to feel good about the entire lifecycle of their purchases. Younger generations believe in making responsible buying choices, so if they leave your establishment feeling guilty, they might pass you by in the future. It makes good business sense to provide your customers with options they can feel good about. Genera's Earthable® fiber products, for example, are sustainably sourced from East Tennessee farmers and fully biodegradable and compostable for a guilt-free experience.
2) Convenience
In the food service industry, convenience is still king. And with the rise of services like DoorDash and Uber Eats, convenience means lots of single-use disposables. When your customers order takeout, they want convenience from start to finish. Choosing biodegradable and compostable to-go containers means they can dispose of the containers knowing the "end-of-life" of the product is environmentally friendly, making disposal convenient and completely guilt-free.
3) Performance
Even though they crave sustainability, consumers still want products that function as expected. According to the Foodservice Packaging Institute, 64% of consumers say that leak-resistance is among the most important attributes of single-use items. The item still has to hold a hot lasagna without leaking all over the car. Fortunately, modern advances in molded fiber products have created single-use items that perform as well as their plastic or Styrofoam counterparts.
Across the food service industry, restaurants are changing their purchasing decisions to align with consumer expectations. At Genera, we've developed a line of single-use molded fiber products that fulfills all of these expectations and more. To learn about Earthable® fiber, or to find out about becoming a Genera farmer, contact Genera online today.