Rural communities are beautiful, vibrant places full of rich traditions and friendly people. Here in East Tennessee, even those who may not live on a farm or in a rural area are likely just a generation or two removed from the direct farm community. Regardless of whether or not you live on a farm today, it's part of our cultural heritage.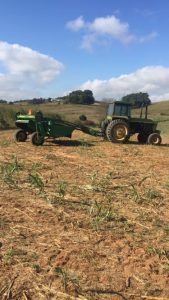 But it's also a way of life that is slowly fading. It's harder for young people to find good-paying jobs in rural areas, and it's harder for farmers to make a living in agriculture. According to the USDA, 85% of US counties that experience persistent poverty are rural.
However, there are actions anyone can take to help boost rural economies, making it easier for people to live and work in the communities they call home. Here are just three to consider.
1) Buy Local Farm Products
Everyone knows that local food is delicious. Just visit your local farmers market and see. But there are other products consumers can buy that are created on farms, including sustainable packaging, soaps and lotions, and even textiles. Consumers should seek these out whenever possible. Visit your local farmers market for food items, work directly with a local farmer, and/or look for other farm goods, too, at local retailers.
2) Support Rural Infrastructure
One divide separating rural businesses from urban businesses is infrastructure, particularly access to broadband internet. Modern farms need good digital infrastructure to run well. They use the internet as much as any other business. They have websites and other forms of online marketing. For those who don't farm but live and work in a rural area, this is also important. Broadband access allows people to telecommute or run a home business. Consider supporting the efforts of local, state, and federal lawmakers to support better rural infrastructure.
3) Sponsor Agriculture Education
Farming has always been a complex, skilled profession. But today, it requires even more technical skills than before. A modern farmer is as likely to use a drone as drive a tractor. Access to great ag education means young farmers will get a better start in their careers and find new revenue streams for their family farms. Why not make a donation to your local Extension service, 4-H club, or the local chapter of National FFA (formerly the Future Farmers of America).
The world needs farmers, and our nation's unique culture needs the rural way of life. At Genera, we're supporting local agriculture by creating our Earthable® fiber products from locally-grown agriculture crops, and we're creating jobs at our facility in Vonore, Tennessee. If you would like to learn more about Genera and Earthable®, contact Genera online today.