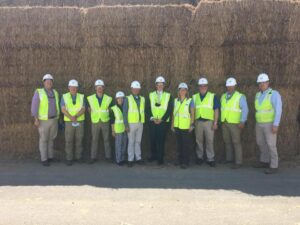 Genera was proud to host Tennessee Commissioner of Agriculture Charlie Hatcher at our fiber manufacturing facility in Vonore on May 26. Hatcher and his team from the Department of Agriculture were joined by State Rep. Lowell Russell and Monroe County Mayor Mitch Ingram for a tour of the largest fully integrated agricultural fiber facility in the United States, where the company uses proprietary technology to process feedstock crops into sustainable, 100% compostable fiber and fiber products for the foodservice industry.
"Genera has had tremendous support from state and local leaders like Commissioner Hatcher, Rep. Russell and Mayor Ingram," said Dr. Kelly Tiller, Genera's president and CEO. "We appreciate this opportunity to host them and demonstrate how the advanced solutions we've developed for foodservice packaging are also creating new market opportunities for farmers in East Tennessee and helping build more robust and resilient supply chains."
Hatcher, a fifth-generation Tennessee farmer and graduate of Middle Tennessee University and the University of Tennessee, was appointed the state's 38th Commissioner of Agriculture in 2019.