East Tennessee company invites growers and landowners in the Tennessee River Valley to join its plant-based manufacturing enterprise
VONORE, Tenn. – Dec. 17, 2019 – Genera, a Tennessee-based company manufacturing domestically sourced and produced ag-based pulp and molded fiber products, is currently recruiting local and regional agricultural partners to supply the company's commercial-scale sustainable ag-fiber manufacturing operations.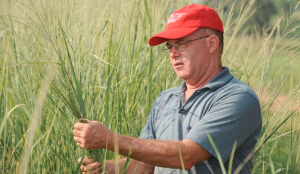 Genera's farmer partners will grow crops to supply the company's Earthable® line of ag fiber based pulp and 100% compostable food service packaging. These products are clear alternatives to plastic and polystyrene food packaging and household products. Genera's Earthable® manufacturing plant, scheduled to begin production in 2020, will be the largest fully integrated end-to-end facility in the United States for sustainable ag fiber products. The facility will bring harvested switchgrass and biomass sorghum in from the farm and ship finished fiber goods to customers.
"Feedstock supply is an integral part of our business," said Kelly Tiller, CEO of Genera. "Our local farmer partners are a critical part of the Genera team. The crops they supply are the foundation of what we do – we couldn't do it without them. Locally grown crops enable us to have a sustainable, local closed loop manufacturing system, truly farm to table!"
In addition to revolutionizing disposable food packaging and household paper products, Genera is expected to have a major positive impact on the local economy. The company will create more than 80 new skilled and non-skilled jobs at the Vonore facility, and its farmer partnerships will offer a new stable market for these crops to the area's agriculture industry.
"Farming is a tough business," said Brad Valentine, Genera's feedstock manager. "It always has been, but there is a great deal of uncertainty right now in the industry. We are providing an opportunity for security for some of the hard-working farmers who are the backbone of Tennessee's rural economy. Switchgrass and biomass sorghum are strong crops that thrive in a variety conditions, so our partners will be able to count on regular, reliable income every year. In an industry that's experiencing unpredictable market swings, that can make a real difference."
Since announcing in July a $118 million investment to launch the Earthable® line, Genera has announced a contract with national industry leader W.G. Yates & Sons Construction Company and multiple management-level hires.
Farmers interested in partnering with Genera can visit https://generainc.com/farmers/.
About Genera
Genera, a Tennessee-based biomass solutions company, works to simplify supply chains with domestically sourced and produced ag-based pulp and molded fiber products. Partnering with local farmers, Genera provides a sustainable farm-to-finished product solution for a wide array of applications including compostable food service tableware, to-go containers, packaging, paper, tissue and more. To learn more about Genera, please visit https://generainc.com.